The Good, The Bad, The Ugly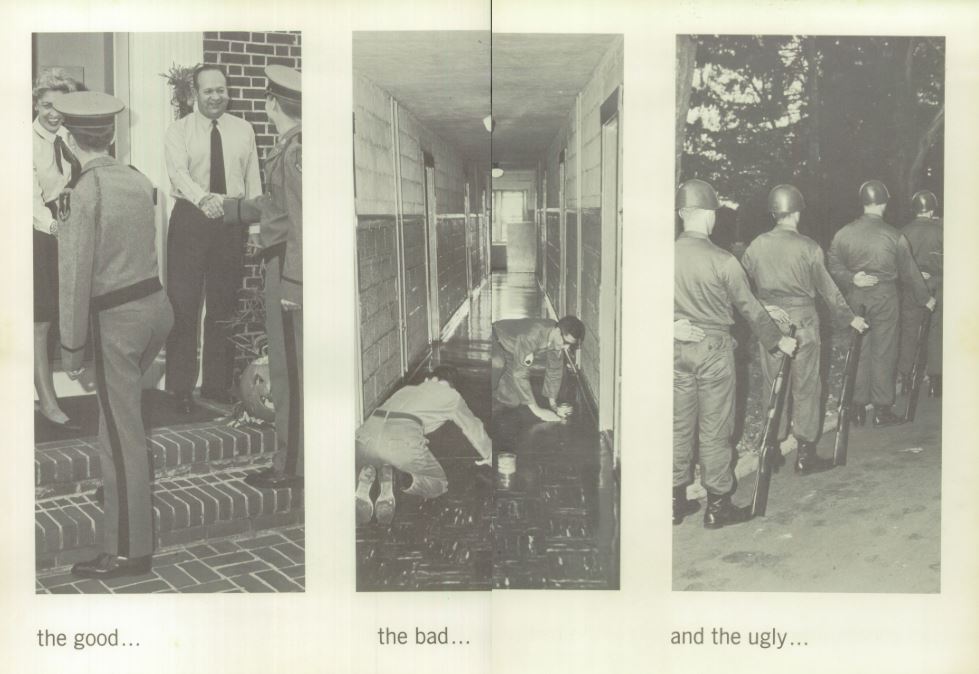 Senior Class Officers
Battalion Staff
Mother Day 1970
Perhaps you were a 'tunnel rat' or had a novel way of flaunting the rules? Did something happen that caused you a few demerits?
Send us your memories and we will share them.
---
From: C. Randall Smith
Subject: Sam Huff Jr.  my teammate for life.
Any military academy is personalities, places, things. But FUMA 1970 is a beginning. ( This was a quote in our 1970 yearbook)
The United States Marine Corps taught me a code of conduct, honor, and integrity. Ratting was par for the course at FUMA, I was never a RAT.  I was ratted out after toilet papering the Quad from the roof of A and B company on Alumni Weekend, April 1970 – served my penance with honor until the day before graduation – and laughed the rest of my life.  I enjoyed the 1970 season as the captain of the Basketball team, Charlie Beck in the Sabre newspaper nicknamed me Randy the Rocket, which now serves as my English Pointers name (Rocket).
I did work part-time at the local drug store and loved Ms Bee – she was a hoot, and Legare Jetton was my girlfriend who I would only like to say " I am sorry".
Almost 2 years ago Sam Huff and I through facebook connected, he shared his tribulations with cancer, daily we laughed and joked about FUMA, he reminded me there was not a 3pt play when I scored 33 pts in a game against Staunton, which he claimed he fed me layups all day jokingly – Sam and I made a plan to attend the 50 yr reunion, the day before he died he contacted me for the last time, he shared his interpersonal feelings for FUMA,  his family, the people he loved, the people he despised, we laughed for the last time, and I told him it would be impossible for me to return without being able to spend that day with him – and score one more layup.
For me, FUMA was an end, not a beginning – Marines never go backward.  As a board member of the Milton Hershey School foundation, I recommended and approved a scholarship for Chris Sampson, an MHS basketball player who attended FUMA as a post-graduate 2018.  Chris did an outstanding job at FUMA and received a full scholarship to play basketball in college.  I told Chris about the legacy of Sam Huff and Sam Huff Jr.  It is my duty to honor with integrity my regretful lost of not being able to score another layup from Sam Huff and continue moving forward with the important work of the Milton Hershey School and the connection to FUMA.
The class of 1970 has a friend in Hershey, PA – you'll find me on the golf course, through the Hershey Country Club.  Semper Fidelis – C. Randall Smith
---